FAMILY AFTER "THE EMPTY"
Part 4: Monitoring the "hot boy, her way"
"Spell" online game
Chi Ngoc is a 10th grade student at a well-known high school in District 1, Ho Chi Minh City. Many years are good children, good skills, Ngoc is always interested parents love.
In early 2008, following the friends, Ngoc entered the Vo martial arts world, the group "gamers" and set a nick "high" is "Prince prince". Once, a sentence scolded pretty heavy mother has made "Prince prince" away … After many efforts to find children failed, the parents of "Prince prince" has come to the private Detective Agency VDT. Having spent a month scouring the internet, new detectives approached the "Prince of Princes" at a net shop outside the city. During the bush, "Prince prince" game you raised by selling virtual items online.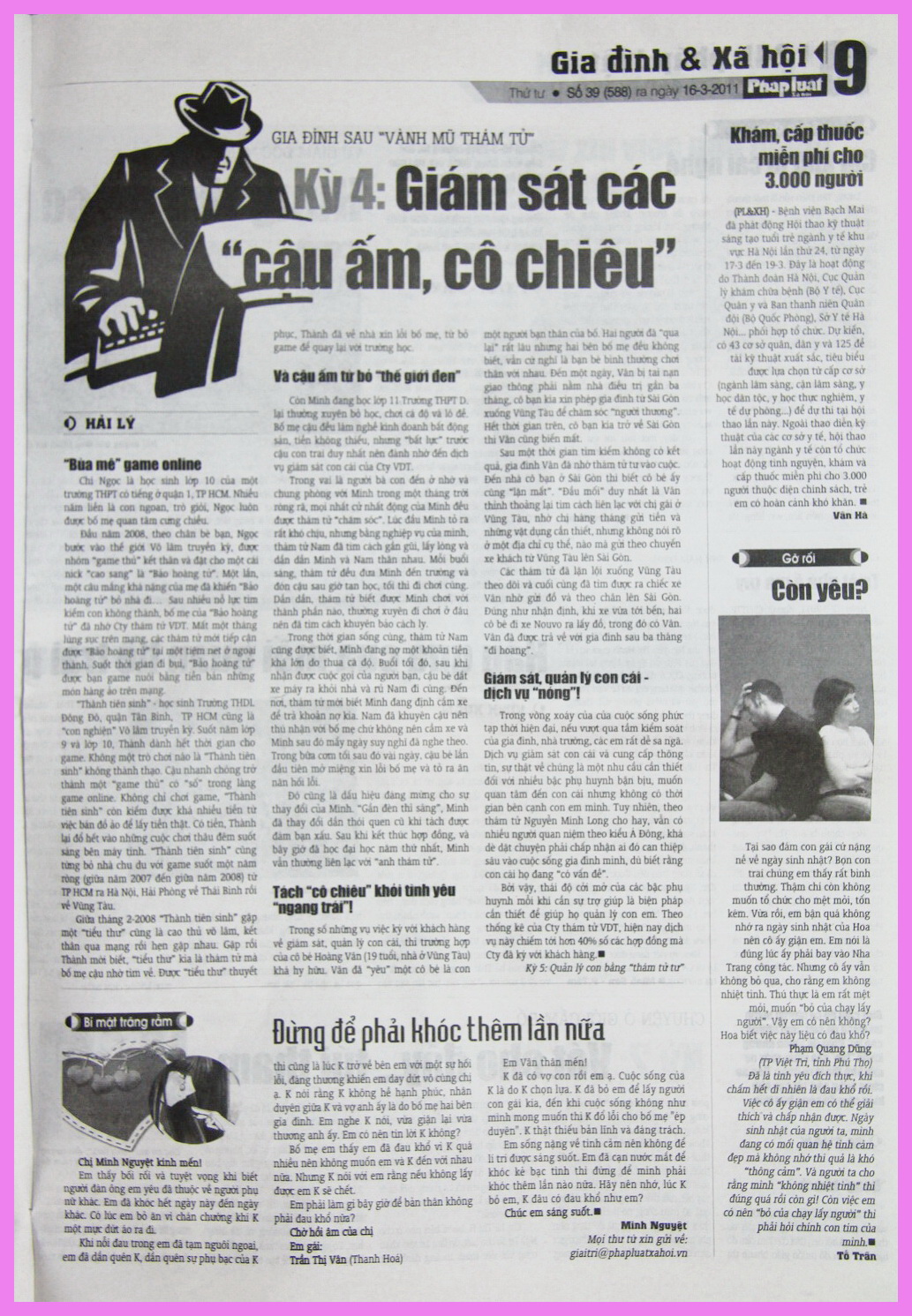 Thanh – Students of Dong Do THDL, Tan Binh District, HCMC are also "addicts" Vo Lam transmission. During the 9th and 10th grade, Thanh spent all his time playing the game. No game is "born" not master. He quickly became a "gamer" with "numbers" in the online game. Not only playing the game, "First born" also earn a lot of money from the virtual sale to get real money. Have money, City to fill up all night playing all over the computer. "Born" has also left home for a year (mid 2007 to mid 2008) from Ho Chi Minh City to Ha Noi, Hai Phong to Thai Binh and then to Vung Tau.
Mid February 2008 "Born to meet" a "sub-directory" is also the martial arts, the online meeting and meet. Meet the new to know, "mail" is the detective that his parents asked about. Being convinced, Cheng went home to apologize to his parents, abandoning the game to return to school.
And he warmly abandon the "black world"
Minh is in grade 11 High School D. often dropped out, playing betting and lot of threads. His parents are real estate business, money is not lacking, but "helpless" before his only son should go to the supervision of the children of the Office of Private Detective VDT.
As the relatives come to stay and share room with Minh for a month, all of Minh's movements are detective "care". At first Minh was very upset, but with his professional career, male detective tried to get close, take heart and gradually Minh and Nam each other. Every morning, detectives take Minh to school and pick him up after school, evening to go play with. Gradually, the detective knew what Minh was playing with, and often went out to play.
During the same time, Detective Nam is also known, Minh is owed a large sum of money due to losing bets. That evening, after receiving his friend's call, the boy took the motorcycle out of the house and asked him to come with him. On arrival, the new detective knew that Minh was about to take the car to pay the debt. Nam had advised him to confess to his parents, should not hold the car and Minh after a few days thought to have followed. During the dinner after a few days, the boy first opened his mouth to apologize to his parents and showed repentance.
That is also a good sign for Minh's change. "Near the lights are bright," Minh has gradually changed the old habits when separated the bad friends. After finishing the contract, and now in the first year of college, Minh often contacted the "detective". Split "her way" from the "left" love!
Of the cases signed with clients about supervision, management of children, the case of Hoang Van (19 years old, home in Vung Tau) quite rare. Van has "loved" a little girl is a close friend of his father. The two have been "back and forth" for a long time, but the two parents do not know, still think that ordinary friends play with each other. One day, Van traffic accident had to stay home treatment for nearly three months, the other friend asked family permission from Saigon to Vung Tau to take care of "people love". Over time, the other friend back to Saigon Van also disappears.
After a period of unsuccessful search, the Van family came to private investigators. Come to her friend's house in Saigon, she knows she also "dive". The only "focal point" is that Van sometimes tries to contact his sister in Vung Tau, asking her to send money and necessary items every month, but not at a particular address, which is sent. Passenger car from Vung Tau to Saigon.
Detectives have dived down Vung Tau to track and finally found the car Van sent goods and follow the foot to Saigon. As expected, when the car just arrived, two girls ride Nouvo pick up goods, including Van. Van was returned to his family after three months of "wilderness".
Supervision, child management – hot service!
In the vicious circle of modern life, if overcome the control of the family, the school, they are easy to fall. Supervising the children and providing information, the truth about them is a necessity for many busy parents who want to care for their children but do not have time with their children. However, according to detective Do Ngoc Anh said that there are still many people in the East style, quite conservative enough to accept someone interfering deeply into their family life, knowing that their children are " problem".
Therefore, the open attitude of parents when needed help is needed to help them manage their children. According to VDT Detective Services, this service now accounts for more than 40% of the contracts that VDT private investigators have signed with clients