Detective Agency VDT provides P2P wifi HD camera equipment
P2P Camera Wireless is the latest generation of intelligent camera products, features such as two-way remote conversations, HD image quality, angle shot all the way … are highly rated by users.
There will be no hard work and aesthetics when wiring, installation, connecting devices such as when using a conventional camera. You can install P2P Camera Wireless wherever you want, plug in and start up. Enter the id code in the handset to wificam on the mobile phone. Less than a minute, the safety monitoring system is installed and you are ready to view your home, office, and shop through your smartphone.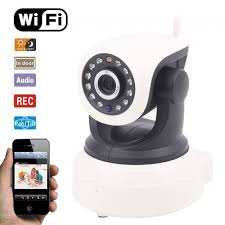 Cloud computing, P2P (Plug and Play) connectivity is easy to navigate anywhere, and can be controlled right on your connected Internet.
Equipped with 11 infrared lights, it will detail all day and night. Especially visible with digital zoom feature with ultra sharp image.
Especially with video recording, intelligent theft alarm: automatically detect and record the movement sent to email.
Users will have full control of the space when the camera allows left-right control – 355o, up – down 90o, panoramic.
More than that, you can chat directly through P2P Camera Wireless because the product is equipped with 2-way audio, which allows for remote conversations, can talk between Smartphone and Camera.
All operations are easily controlled through Internet-connected devices such as "Computer, Laptop, Phone, Tablet PC … etc". You can adjust the left-right, up-down, – video recording, 2-way conversations, recording and save right at your devices.
Only 1.700.000 vnd / camera you can own and peace of mind to observe every corner of your home or office. Detective VDT service is committed to the carrier, warranty 12 months, pay in 7 days.
For further information please contact
VDT DETECTIVE OFFICE IN HANOI
Address : FL14.6, VIMECO Bldg, Pham Hung Str., Trung Hoa Ward, Cau Giay Dist., Hanoi
Hotline : 094.368.2399 – 1900. 599. 979
Website : www.thamtuvdt.com / www.vietdetective.com
Email : thamtuvdt@gmail.com
---
VDT DETECTIVE OFFICE IN HAI PHONG
Address: FL4.6, Khanh Hoi Bldg, Lot 2/3C, Le Hong Phong Str., Ngo Quyen Dist., Hai Phong
Hotline : 094.368.2399 – 1900 599 979
Website : www.thamtuvdt.com / www.vietdetective.com
Email : thamtuvdt@gmail.com
---
VDT DETECTIVE OFFICE IN HO CHI MINH
Address : Cau Kho Ward, Dist. 1, HCM
Hotline : 094. 368. 2399 – 083.837.2292
Website : www.thamtuvdt.com / www.vanphongthamtu.vn / www.vietdetective.com
Email : thamtuvdt@gmail.com
---
VDT DETECTIVE OFFICE IN DA NANG
Address: FL5, Sapphire Bldg, No.203 Ong Ich Khiem, Thach Thang Ward, Hai Chau Dist., Da Nang
Hotline : 094.368.2399 – 1900 599 979
Website : www.thamtuvdt.com / www.vietdetective.com
Email : thamtuvdt@gmail.com