Hanoi detective company VDT on the newspaper nguoiduatin.vn
Source: https://www.nguoiduatin.vn/cong-ty-tham-tu-va-bi-mat-ve-nhung-dich-vu-khong-ai-ngo-toi-a446535.html?fbclid=IwAR1i5sLd0mZJug_mccGbxJew5YFtc2EK- 0oIOHwKtuJK39LNqdrFGpcEW4k
Even though many parents know they always have to pay attention to their children, but still can not avoid moments of neglect because they are caught up in the wheel of work. When I care …
Special mission
Looking at the confused and worried eyes of the two parents, Mr. Do Ngoc Anh – Director of the VDT detective company also guessed that their concerns might only be about children.
Anh 1 detective by ngoc anh – detective company and secretly about services no one expected
Mr. Do Ngoc Anh – Director of detective company VDT
And indeed, according to Mr. Quan – Mrs. Thao, the parents of Ha Chi's grandchildren, their daughter is in 2nd year university this year. If before, Chi was a good girl. She studied well, obeyed her parents. From the moment she entered university, Chi started to neglect her studies. Not only wandering around in shops and shopping malls for hours to shop, recently, Chi also has some manifestations of being spoiled, a temper that makes Chi's parents unable to control.
The director of the detective company VDT said the reason that the couple pampered because Chi was an only child, and the family had economic conditions, the couple met all the child's requirements. They even spent a large amount of money to buy a car for their daughter when they heard that they had parked at university.
After a period of adjusting to the new environment, Chi's parents also gradually realized the changes of their daughter, at first just dressing more, then chatting, coming home later, along with that learning has decreased somewhat. Chi's parents themselves also learn about these changes of their children, even take time off work to secretly follow Chi, but they realize that Chi often goes alone to Spa, a I go shopping, even going to a coffee shop to drink water is alone.
Chi also made no secret of what she did to her parents, but maybe for that reason, Chi even more freely allowed herself to go home at 2, 3am, even though her parents always had to anxious, waiting for Chi's door.
In the time of anger, the siblings took heavy arms with their children and dragged Chi home. Although after that time, Chi made a promise to her parents that she would change, did not hang out with bad friends and concentrated on studying, but it seemed that it was only for a while, and then she fell into it.
Mr. Do Ngoc Anh revealed that the two parents above, in addition to using the child surveillance service of VDT Detective Company, see where Ha Chi goes, what to do, and whoever meets, Mr. Quan and Thao also expect The Company is tired of helping one more task is to protect Chi in times of need or can intervene in time when Chi shows signs of using banned substances.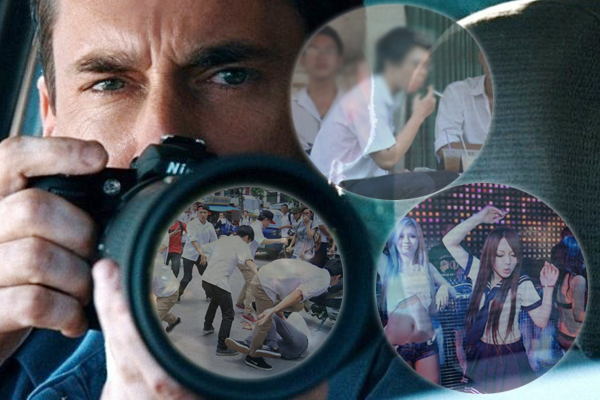 Detective cum "nanny"
According to information recorded from the detective, Chi's one-day schedule is repeated repeatedly: Spa – dining, restaurant – Café – spa – shopping at the Shopping Center – Watching movies. Sometimes Chi just sat in a taxi around the city to waste time, when she got home, the clock was also at 2:00 in the morning.
how quickly to join – Detective company and secretly on unsuspecting services
Illustration
"Mr. Quan – Ms. Thao also confided to us that: from the beginning, you did not make a strong deal with Chi, because you love your child, so you cannot afford to cut your subsidy so that there is no way until now. Can you handle it? That regret became even more desperate when one day, detectives announced that Chi, along with three more friends in the Bar, were smoking balls and showing signs of using other banned substances, and they immediately went to the scene to bring the child back ", the director of the detective company VDT recalled.
Looking at the situation from a more positive angle, Mr. Ngoc Anh said: Anyway, Ha Chi is fortunate because she was born into an educated family, loved by her parents and never stops wanting. your child is getting better. The young director himself also believes that Ha Chi's parents will have a way to help their child through this boom to grow and mature. In many cases where parents neglect their children, they do not know where that dumb and dumb soul is going, which is a constant question in the minds of people working in professions like Ngoc Anh.
Or in the case of families with difficult and economically difficult circumstances, the management of children is even more complicated. That is the story of a woman about 42 years old, with a simple appearance, going on an electric bicycle to knock on the door of the Detective Company with the desire to ask a detective to watch her son in grade 11 because he has many signs of spoiled, addicted.
"Through the story of Ms. Lan (customer), we know that her family is very difficult and has not had to come here, we agree to help her with this case", Mr. Ngoc Anh said.
According to this woman, her son, Minh, is currently in grade 11 at a private school near her home. She and her husband have been divorced for 3 years. She herself struggled to earn a living to support Minh to study.
Frequent sharing, closeness and encouragement, Ms. Lan understands her child is an affectionate, obedient and loving child. Knowing his mother's hard work, during the summer vacation last year, Minh asked his mother for permission to work part-time at a game shop, earning more income at least to cover the necessities for himself.
When she knew this intention of her son, the mother's eyes filled with happiness when she saw that her son was grown. Ms. Lan agreed, partly because she wanted to create a good environment for her children to exchange and learn and be independent in life. But she did not expect that: After two months of summer working part-time at the restaurant, Minh was addicted to games ever since. Even dropped out of school, he always "paid money" at the bar until the night before. Of course, the money from meals, to tuition, Minh all baked into useless games.
Feeling helpless because she herself could not pull her child out of the quagmire, she hurried to find the VDT detective company on a sunny day like fire. On her blue face and teary eyes, Lan wanted to ask detectives to watch out if she loved the game, did Minh get involved in any social evils?
Accepting the words of Ms. Lan, the detective company VDT quickly planned a combat plan. First, the company selected a young gamer, disguised as a "gamer" to come to the game shop, pretending to be friends with Minh.
During the close supervision, the detective found that, every time he played tired, Minh could freely enter a room inside the shop to rest because he was a regular customer. Next time, when Minh was about to enter the inner room as usual, the detective quickly followed, pretending to get water, and heard Minh ask the owner: "Are there any grass?". After that, Minh took something to the rest room, about 2 hours later, he went out to play the game as usual.
Deciding to reveal the secret behind the room where Minh used to rest, the detective deliberately pretended to go into the room above and found Minh lying on the sofa in the smoking room smelling strange smells, not smells. cigarette. From here, it can be confirmed that Minh plays grass – an addictive substance.
Upon hearing this news, Ms. Lan was shocked. But because Minh is her source of life, this woman has temporarily put down all her work and together with all other family members accompany Minh in detoxification and rebuilding life.
"That is also what the VDT detectives are very desperate for, hoping these newly grown souls will stand up and write a bright future after the first slips of their life", Mr. Do Ngoc Anh said.