GIA ĐÌNH SAU " VÀNH MŨ" THÁM TỬ
Last time: "Secrets of the hostess and students"
Among the cases that I was told by Detectives VDT are sad stories, funny stories and the irony that ordinary people do not think. Therefore, sometimes the success of "investigation" makes the detective bring sadness to the client.
Faith
Striding to step on the road to Tho home in the heart of the strange, although not about to meet his lover Tho is studying abroad. Each time home Tho, always feel comfortable, pleasant because of the fresh air, village scenery peaceful and especially because of the intimate affection of the parents in the future.
Thọ has been studying in Japan for a year, but her correspondence is very steady, always say do not forget to Hang. Kia then, roof tile roof brown, with rows of soaring front lane. Only Mrs. Mung, Mother Tho at home. Mrs. Mung told her two children in the net to print the letter, "but did not find it to send money to parents," she wrote.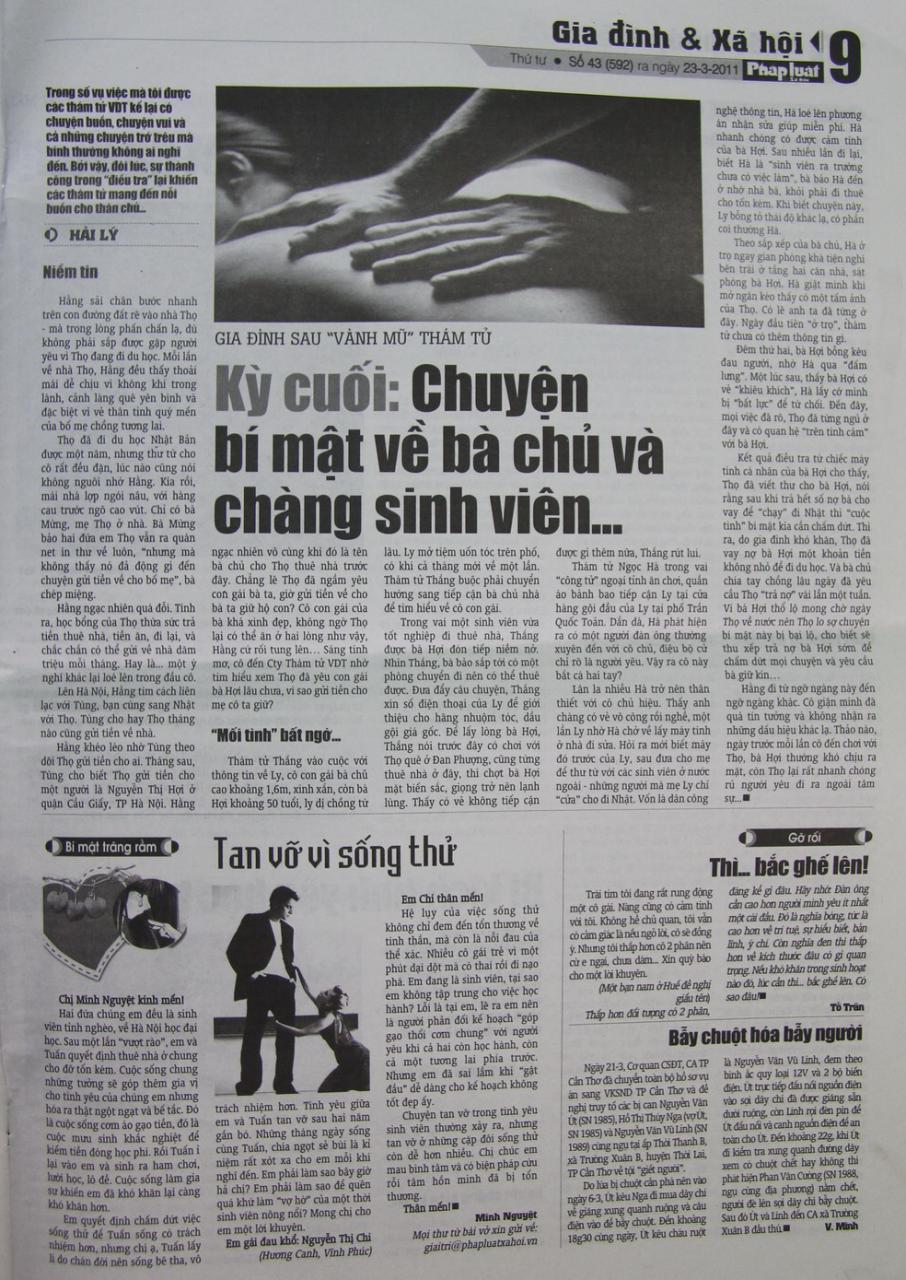 Surprisingly enough, the calculation of Tho's scholarship is enough to pay for rent, meals, transportation, and certainly can send home million every month. Or is it … another thought flashed in her head.
Go to Hanoi, Hang find ways to contact Tung, you go to Japan with Tho. Tung said, every month sent money home.
Hang skillfully track who sent money to anyone. The following month, Tung said that Tho sent money to a person named Nguyen Thi Hoi, in Cau Giay district, Hanoi. Amazingly, it was the owner's name for the former tenant. Have you ever loved her daughter, now send her money to keep her child? Her daughter is quite beautiful, no doubt Tho can eat in such a heart, Hang up messed up … Bright morning, she came to find the detective company VDT to find out that Tho has love daughters Pig long, why send money to her mother to keep?
"Love" surprise …
Detective Thang in the information about Ly, her daughter's daughter is about 1.6m high, lovely, and Ms. Hoi about 50 years old, divorced her husband long ago. Ly opened a hair salon on the street, sometimes months to go home once. Detective Thang must turn to approach the mistress to find out about her daughter.
As a graduate student to rent a house, Thang was welcomed by Mrs. Chen. Look Thang, she said there is a transfer room in the next should be able to rent. Bringing the story, Thang asked Ly's phone number to introduce the hair dye company, the original shampoo. To say goodbye to her pig, Thang said that before playing with the countryside in Dan Phuong, also rented a house here, when suddenly her face color changes, the voice becomes cold. Seeing nothing more to come, Thang withdrew.
Detective Ngoc Ha in the role of "son" outside the province to eat, dashing clothes approach Ly at Ly's shampoo shop in Tran Quoc Toan. Gradually, Ha discovered that a man often came to her boss, the tone of the appointment indicated that the lover. So she caught two fish?
Many la, Ha became close with her brand. Seeing him seemingly invisible, once Ly asked Ha to take home to get the computer to repair. Asked to know that machine before the Ly, then give the mother to correspond with the foreign students – who Ly mother just "door" to Japan. Being the information technology people, Ha flicked up the plan to receive free help. Ha quickly get the feeling of Ms. Pig. After many trips, Ha said that "the graduates have no jobs," she told Ha to stay at her house, without having to rent for expensive. Knowing this, Ly suddenly expressed a different attitude. somewhat despise Ha.
According to the arrangement of the mistress, Ha in the room right at the left room on the second floor of the house, iron room Miss. Ha opened the drawer to see a picture of Tho. Maybe he was here. On the first day of the stay, the detective had no further information.
On the second night, Pig suddenly called people hurt, thanks Ha through "back punch". A moment later, seeing that Pig was "provocative", Ha pleaded with "impotence" to refuse. At this point, things have been clear, Tho had been sleeping here and have relationship "on the feelings" with Ms. Pig.
The findings from Hoi's personal computer show that Tho wrote to Hoi, saying that after paying off her loan to "run" to Japan, the secret "love" end. Turns out, due to family difficulties, Tho borrowed a small amount of money to study abroad. And the mistress of her long-term husband asked Tho to "repay" several times a week. Since Pig said she was expecting to return to Korea, she feared that the secret would be exposed, saying she would arrange to pay Wu's debts soon enough to stop her and keep her safe.
From one surprise to another. Hang was angry and did not recognize the strange signs. Thao, the day before every time she came to play with Tho, she often uncomfortable face, and Tho very quickly invited her to go outside …