Mr. B is a cadre with a position at a state agency. His husband has only one son, H, in his 20s, studying in Hanoi for the second year. H is a good boy, but recently there is a negligence of education, often go to play late. On that day, Mr. B was having trouble sleeping. At around 12 o'clock, he suddenly saw his son walk out of the house without saying anything to his parents and he did not go to bed.
Linh has something not good, he went to the boys room to see the letter he left, the content of his parents apologized and said he had set up in the far, ever successful new home. H also cautiously stated that his parents had borrowed $ 3 million to spend their first days looking for a job with a laptop.
Mr. B's family was bumbling, all relatives acquainted with being mobilized to search for H. But two months later, the news about H is still not sound. Locating the phone of H then few days later also signal, go to school H then he dropped out …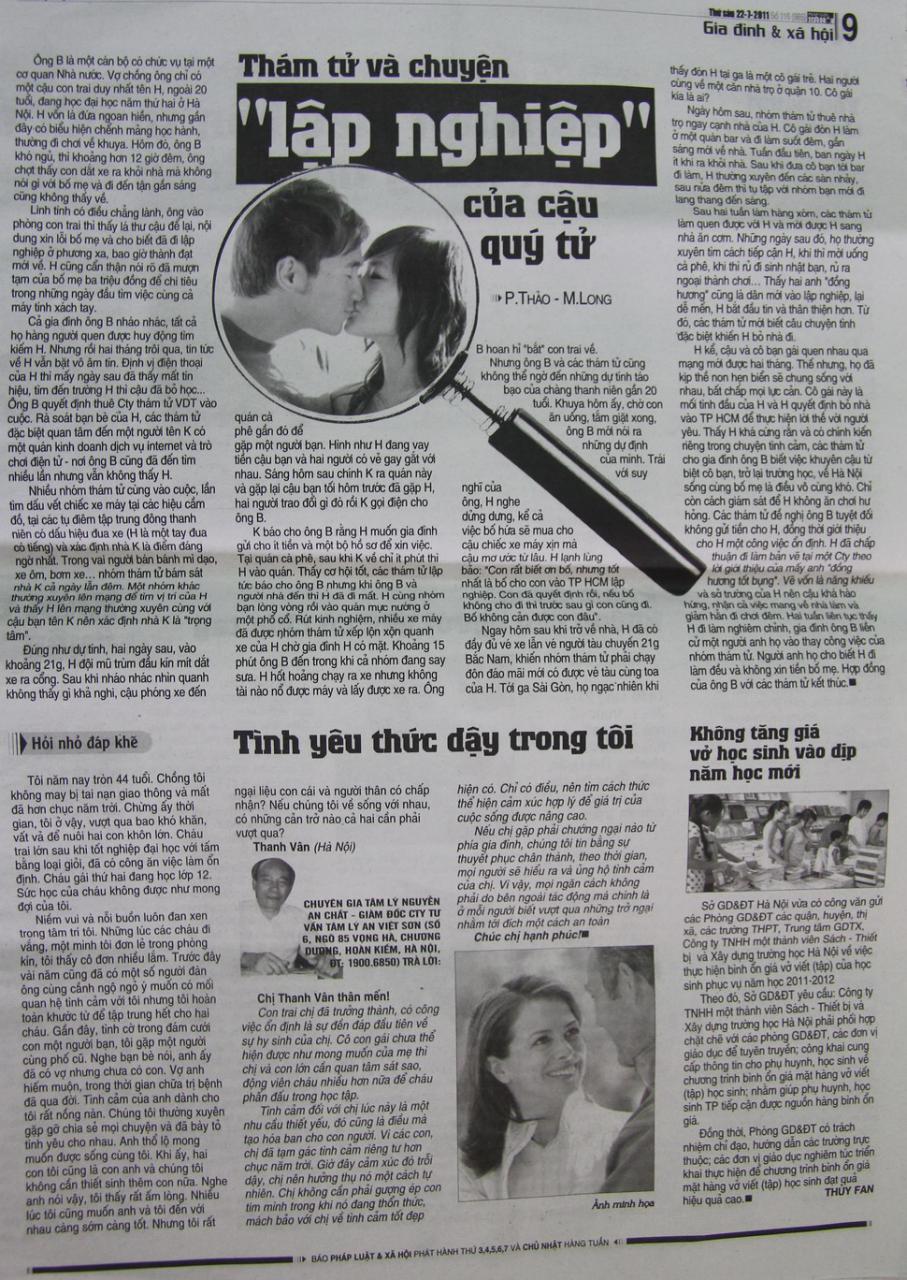 Mr. B decided to hire a VDT detective company. Reviewing H's friends, VDT private detectives are especially interested in a person named K who has an internet business and e-gaming shop – where Mr. B has searched many times but still does not see H.
Many detective groups are also involved, tracing the motorbike in the pawnshop, at crowded youth gatherings with racing signs (H is a famous driver) and identifying the K is the most suspicious point. Some vendors sell buns, motorbikes, car pumps, etc. The detective team keeps a close eye on K during the day and night. A group of regular visitors to find H's location and see H regularly online with his friend K should identify the K as the "focus".
As expected, two days later, at about 21h, hooded H closed the car to the gate. After looking around he was not suspicious, he drove to a nearby café to meet a friend. It seems like H is borrowing money from his friend and the two of them seem harsh. The next morning K himself went to this restaurant and saw his friend had met H the day before, the two exchanged something then K calls Mr. B.
K told Mr. B that he wanted to ask his family for less money and to buy the application package. At the cafe, after K about, just a few minutes to the restaurant. Seeing a good chance, the detective immediately told Mr. B but when Mr. B and his family arrived, H went away. H go around the circle and then to the barbecue in an old town. Experienced, many motorcycles were cluttered mess around the car of H waiting for the H family to be present. About fifteen minutes later, Mr. B arrived in the car while the group was drunk, H rushed to the car but could not break the machine and get the car out. Mr. B rejoiced "to catch" his son.
But Mr. B and the detectives also did not expect the apple of the young man's estimate of nearly 20 years. Late at night, waiting for the child to eat, bath was finished, Mr. B said his plans. Contrary to his thinking, H listened indifferently, including his promise to buy him a motorcycle that he had long dreamed of. "I am very grateful to my father, but it is best to send him to Ho Chi Minh City for business. I have decided, if you do not let go, then you go anyway. Dad did not stop me. "
The next day he returned home with full tickets and tickets for the 21-nd South-South passenger train, causing the detectives to run furiously to get the same train ticket with H. To the station, they were surprised. When I met H at the station was a young girl. Two people together about a house in District 10. So who is the girl?
The next day, the detective team rented a day home near the house of H. The girl picked up H at a bar and went to work all night, near the morning to go home. First week, day H rarely come out of the house. After hiring her to the bar to work, H often go to the dance floor, after midnight gather with new friends wandering to the morning.
After two weeks as neighbors, the detectives became acquainted with H and invited H to eat rice. The next day, they often find ways to approach H, when invited to go to coffee, when you go to your birthday, invited to the suburbs play … Seeing two "fellow countrymen" are also new people to set up business, H, begin to believe and be more friendly. Since then, the new detective knows the love story that makes H leave home.
H and his girlfriend have been online for two months. However, they have to swear that the sea will live together, despite all the obstacles. This girl is the first love of H and H decided to leave home in Ho Chi Minh City to make oath with her lover. Seeing that H is quite tough and has his own opinions in the affair, detectives for Mr B's family know that he advises him to leave her, go back to school, go to Hanoi to live with her parents and what is extremely difficult. The only way to monitor H is not to eat spoiled. The detectives suggested Mr. B absolutely not send money to H, while recommending H a stable job. H agreed to go to work drawing at a company according to the introduction of some "good fellow countrymen". Drawing is a gift and strength of H so he was quite excited, taking both home and work to reduce the night out. For two weeks continuously see H work seriously, his family nominated a cousin to replace the work of the detective team. The cousin said, H go to work and not ask for money parents. Mr. B's contract with the detectives ends.
Detective Service VDT!